It's telling that the DualShock controller, with its two analog sticks, four shoulder buttons, and quartet of face buttons, has remained effectively unchanged since 1997.
Over time there have been minor additions, like motion sensors and the DualShock 4's touchpad, but Sony has always been hesitant to shake things up with the PlayStation gamepads. Nor has it needed to; the DualShock line of controllers has always been effective without indulging in gimmicks or change for the sake of change.
It's that conservative approach to design that makes the launch of the DualShock 4 Back Button Attachment so noteworthy. Sony isn't launching a new, high-end controller complete with a premium price tag to compete with Microsoft's Elite controllers or offerings from companies like Scuf or Astro. The company has instead focused on delivering just the rear paddles — which are arguably the biggest advantage those gamepads offer — and doing so with a $29.99 accessory for existing DualShock 4 hardware.
The question is whether most players need those two additional buttons on the back of their controllers, and whether Sony has been able to deliver everything competitive players need from rear-mounted triggers with such a simple attachment.
Why move the buttons to the back of the controller?
Here's the classic argument for why buttons on the back of a controller are helpful: If you're playing a shooter, you can remap the jump command to one of the back buttons. This allows you jump without having to remove your thumb from the right analog stick, which lets you continue to aim perfectly while in midair. Without a back-panel button, you'd have to let go of the analog stick, losing control over your aiming for a split second.
The downside to back buttons, of course, is that you have to buy an entirely new controller that supports them. And again, these pro controllers aren't cheap.
But now Sony's come up with a clever solution: The aptly named DualShock 4 Back Button Attachment. What it lacks in marketing pizzazz, it makes up for in usefulness and frugality.
The DualShock 4 Back Button Attachment isn't much to look at on its own. It's a small hunk of black plastic with a data jack built into it. Installation on a DualShock 4 takes seconds: It just slides into the data port at the bottom of the controller, hugging the DualShock's body like a snowsuit. The attachment adds a slight bit of weight, but nothing that should be troublesome for most players, even after many hours of use. I was never bothered by the extra weight, or size, during my hours of testing.
I found that my middle fingers naturally came to rest on the curved contours of the newly added rear buttons, where previously they just wrapped around the DualShock 4's handles, doing nothing. It's a stable, natural fit that doesn't feel awkward.
The two added paddles may be shaped like triggers, but they feel like buttons. There's no half-pull to these — it's either a press or it isn't. I actually prefer the stiffer feel, as it avoids accidental presses that can come with rear paddles that have a lighter touch. But if you're looking for something more precise for, say, a racing game in which you may want to accelerate gradually, this attachment won't help.
One annoyance with video game accessories is that they often require separate drivers to be installed or updated. Here, though, there's no extra software required, making the attachment's use as easy as its installation.
When playing Star Wars Jedi: Fallen Order, I decide I want to have the parry and dodge functions assigned to these rear paddles, for quicker access to defensive maneuvers. (By default, dodge is assigned to circle and parry is assigned to L1.) Holding down the screen in the middle of the attachment brings up all of the button options on the controller, and pressing each paddle will change the command it's mapped to. Once the settings are finalized, another tap of the screen and I am good to go.
This works flawlessly not only on the PS4, but also on Windows PC, with nary a driver to be installed. The attachment includes three profile slots as well, so you can save three sets of assignments for different games, further decreasing the time you'd need to spend fussing with the controls. Hopping between Jedi: Fallen Order and Call of Duty: Modern Warfare layouts took about three seconds. It's like a magic trick.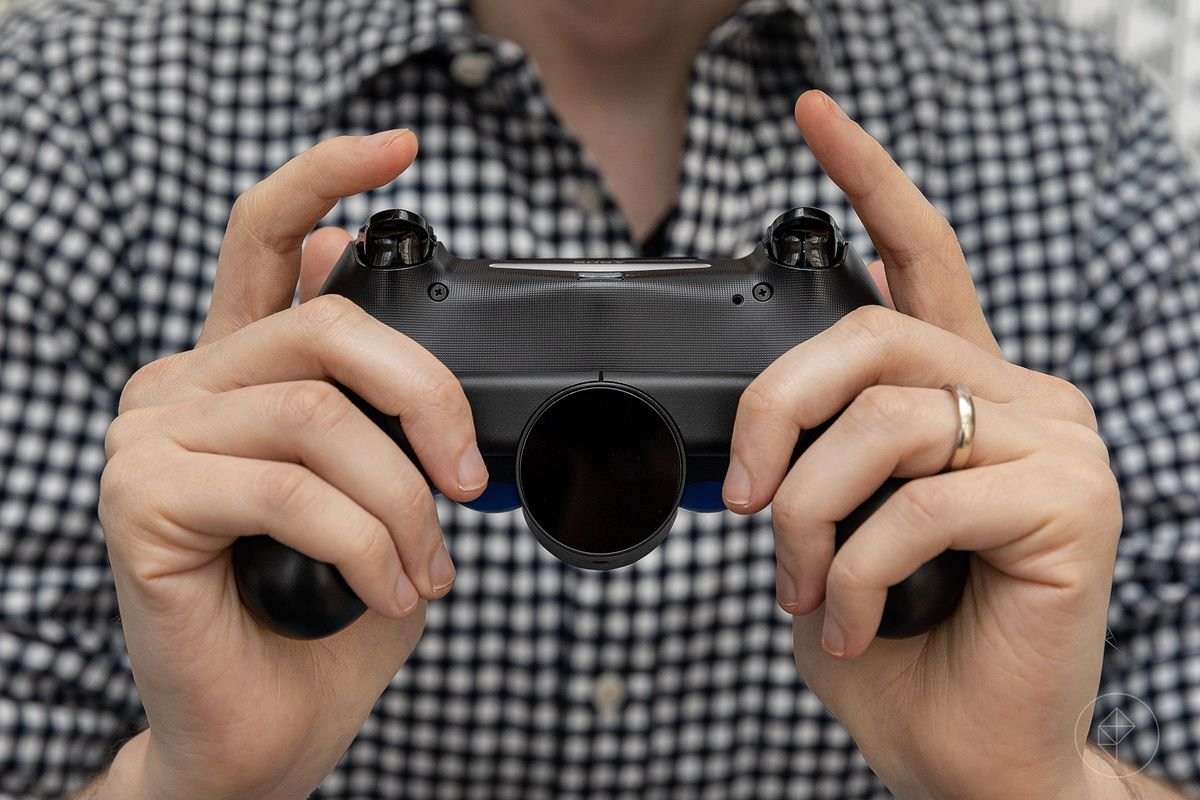 While I play a lot of games, I wouldn't consider myself a competitive gamer. But even during casual play sessions, I found the attachment pretty helpful. My reaction time to parry a blaster shot back at a stormtrooper was markedly quicker than it was when I had to reach for the parry button. Kills while jumping in Modern Warfare, which were previously very tough to pull off, also became just a bit easier.
If you're a midlevel player, the accessory won't make you an all-star. But you may see a modest yet noticeable improvement in your skills with this accessory attached. For me, the biggest benefit is one of increased comfort: My fingers and thumbs don't have to shift around as much to reach all the buttons I need on a minute-to-minute basis.
This attachment won't sink all of the companies selling high-end pro controllers — those products still offer way more flexibility and customization options than simply adding two rear paddles. But for folks looking to dive into the world of back-panel buttons without having to spend more than $100 on an entirely new controller, the DualShock 4 Back Button Attachment does its job admirably well, and at a fraction of the cost.
The DualShock 4 Back Button Attachment will be released on Jan. 23. The hardware was reviewed using a retail unit provided by Sony. You can find additional information about Polygon's ethics policy here.