The 1990s show Batman: The Animated Series rewrote the Batman canon, dramatically changing the backstories of several villains and solidifying the noir and gothic style that came to define Gotham for a generation of fans. B:TAS also introduced a host of new characters, including police officer Renée Montoya and Batman inspiration The Grey Ghost. But easily the most successful of the new characters was Harley Quinn, an acrobatic Arkham psychiatrist turned girlfriend and accomplice to the Joker.
Harley has found footing in Batman comics and other media since then, including the 2016 Suicide Squad film. But DC Universe's foul-mouthed, over-the-top new animated series Harley Quinn, which kicks off its 13-episode first season on November 29, owes the most to the Batman: The Animated Series episode "Harley and Ivy." The episode cast the two Batman supervillains as friends and roommates, with Poison Ivy trying to persuade Harley to end her abusive relationship with the Joker and become her own woman.
That dynamic is at the core of Harley Quinn, which opens with Harley (Kaley Cuoco of The Big Bang Theory), dressed in her classic Batman: The Animated Series costume, being used and abused by the Joker (Alan Tudyk of Firefly and Doom Patrol). When Batman (Diedrich Baker, serving the same "straight man in a mad world" role he had in Batman: The Brave and the Bold) interrupts their latest heist, the Joker escapes without Harley, and she spends a year waiting for him in Arkham until Ivy breaks them both out.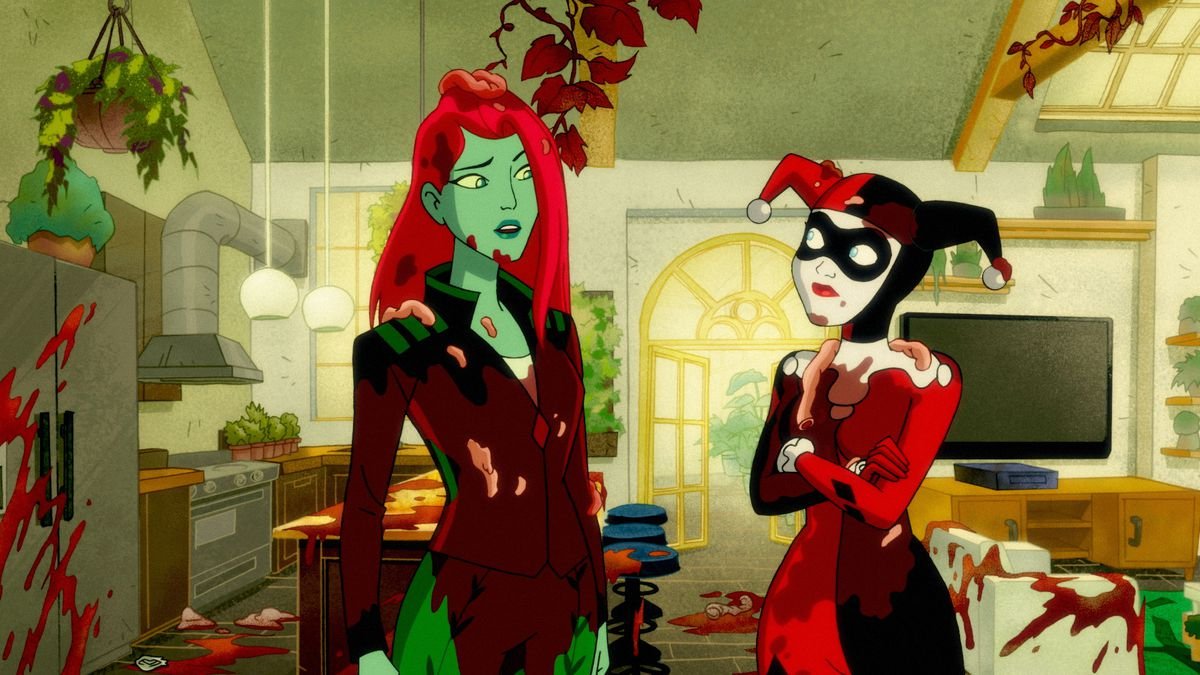 Moving into the apartment Ivy shares with her Audrey II-like plant creation Frank (J.B. Smoove of Curb Your Enthusiasm), Harley changes her look to be more in line with her Suicide Squad costume, and vows to prove she doesn't need the Joker by relentlessly trying to be just like him. She sets out to assemble a crew and pull off enough big heists to earn herself a spot alongside the Joker and the rest of the Justice League's greatest villains in the Legion of Doom.
Harley Quinn is full of warped references to B:TAS and its successor, The New Batman Adventures. Tudyk's Joker is a clear tribute to Mark Hamill's iconic version of the character, played with just a little more cruelty and spite, since the writers no longer need to pull punches for a young audience. While this Joker has the same over-the-top flair as his 1990s counterpart, he's much more prone to spectacularly killing people by melting their faces off with acid, or blowing them up in exaggerated bursts of gore and organs.
Tudyk also gets to bring his own spin to the shapeshifting Clayface, whose background as an actor is mined for endless gags. Asked to do something simple like impersonating a guard, he tries to develop an elaborate backstory for his new character. When another villain monologues, Clayface can't help but offer notes. The episode "You're A Damn Good Cop, Jim Gordon," where the show's extremely beleaguered version of Commissioner James Gordon (Christopher Meloni of Law & Order: Special Victims Unit) adopts Clayface's lost hand, is a goofy spin on the emotional The New Batman Adventures episode "Growing Pains." In the particularly absurd episode "A High Bar," Harley Quinn and Ivy crash the Penguin's nephew's bar mitzvah, and Ivy infects some teenage boys with a serum that turns them into trees in a reference to the B:TAS episode "Eternal Youth."
While these deep references to Batman canon are likely to engage longtime fans, Harley Quinn isn't just drawing inspiration from animation and comics. The show is filled with blunt, hilarious talk about sex and relationships that makes it resemble female-focused sitcoms like Broad City and Don't Trust the B— in Apartment 23. Episodes alternate between largely standalone stories (like Harley trying to keep Robin from being her nemesis) and deeper ones that get to the show's core premise about the challenges of reinvention, and the pervasive nature of sexism. Whether it's the Joker telling one of his goons "women aren't funny" or Harley failing to recruit muscle for a well-planned job when a male D-lister villain like Kite Man (Matt Oberg) can easily find support, the writers are scathing.
Not all the jokes land as well. Like their title character with her bats and mallets, the writers of Harley Quinn regularly take big swings, and sometimes miss. The geriatric super-spy Sy Borgman (Seinfeld's Jason Alexander) is included in the cast as a nod to his role in the Harley Quinn comics, but his schtick is largely limited to dozing off on the job. He takes away from the far more entertaining supporting characters, like King Shark (Ron Fuches), a hulking human-shark hybrid reimagined as a violence-adverse computer guy, and Doctor Psycho (Tony Hale of Arrested Development and Veep), a psychic working with Harley to try to redeem himself after being exiled from the Legion of Doom for calling Wonder Woman the c-word on television.
Luckily, the show moves relentlessly fast, so flat jokes or lackluster episodes don't last long. The humor has a powerful emotional core, showing the toll an abusive relationship takes not just on the victim, but all the people trying to help them be better. Endless mockery of Christoper Nolan's version of Bane and unexpected eruptions of hyperviolence are seamlessly blended with powerful moments that just show Harley grappling with her choices, and trying to claw her way into a unique sense of agency and identity.
Like its insane psychiatrist protagonist, Harley Quinn is a study in contradictions. It's both a love letter to the series that created the character and a subversive new look at her role in the male-dominated world of superhero stories. It uses profoundly silly plots to address serious real-world issues and tells surprisingly sweet stories that are utterly soaked in cartoon gore. Those pieces don't always fit together perfectly, but the ambitious new spin on the genre has produced the best version of Harley Quinn since her introduction.
Harley Quinn will debut on DC Universe on November 29.